OVER-BED TABLE with SOLID WOOD TOP for EATING, COMPUTERS, READING, LIGHT WORK – in White or Pale Green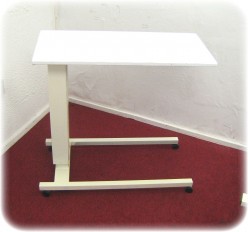 Price: £75.00
ADJUSTABLE HEIGHT HOSPITAL OVER BED/CHAIR TABLE – WHITE OR GREEN TOP
This is a fully refurbished Over-Bed table with re painted metal stem and solid wood top in pale green. Adjustable height and 360 degrees castors, the table maximizes comfort for eating or reading in bed or chair. This table can be used by both children and adults alike and it is particularly useful for wheelchair users.
The table is a great item for people who need to spend a lot of time in their bed or comfy chair. This could be due to lack of mobility or recovering from a recent injury or operation.
It can assist eating tasks such as resting a drink, eating a meal in front of the television or even enjoying a leisurely breakfast in bed. It can help keep objects like a telephone, book or reading glasses nearby. A 'slide proof' non-stick mat provided.
Features include:
*  Highest Position – 44″ (110CM)
* Lowest Position – 30″ (75CM)
* Table Width – 15″ (37.5CM)
* Table Length – 33" (82.5CM)
* 4 Roller Castors – not suitable for use on thick carpets.
* Frame work cosmetically enhanced (fully painted!)
* Newly repainted solid wooden top in white or pale green
Size:
37.5CM X 82.5CM - Highest - 110cm, Lowest - 75cm