Sidhil Independence Electric Profiling Hospital Bed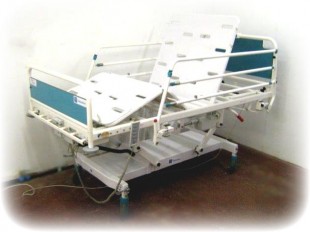 Price: POA
This bed is designed for either Hospital, home or Care premises. It is in very good condition with only minor surface scratching, and has been cleaned, sterilised, maintained and cosmetically enhanced (touched up!) and has removable head & tail boards.  
Features include:
+ Gas/air bottle holder
+ Profiling operated using one of two handsets attached to the bed Bed lengthening facility to cater for taller patients.
+ Active Seat' to reduce 'shearing' and smooth the transfer to seat position
+ Ergonomically designed longer backrest.
+ Handset lockout box for easy bed control management.
+ Ventilated, removable, easy to clean mattress platform sections.
+ Anti-trapping on the mattress platform.
+ Manual and electric CPR
+ Removable head and foot ends for easy patient access.
+ Dual-sided IV pole locators. Dual ended locators for lifting/monkey pole.
+ Integral pull-out bed stripper.
+ Linked tracking and braking system with anti-static castors.
+ Battery backup
+ Maximum user weight of up to 267kg (42st)
Highest Point 30" (760mm)                   Lowest Point 15" (380mm)
Length 7ft (2103mm)                         Width 39" (1m)
We are the LARGEST supplier of pre-owned Hospital Beds in the UK (Est. 1987) and stock is usually plentiful.
SHOWROOM NOW OPEN in Rainham Kent – For more detail contact Mandy@LyndhurstMedical.co.uk 
Notes:
Beds may vary in size and type, subject to availability at time of order
DRIVER INSTRUCTED TO DELIVER TO GROUND FLOOR( no steps) EXTERNAL OF BUILDING ONLY.