Skin Staplers & Removers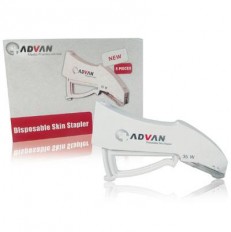 Price: £10.50 inc P&P
Product No: LYN064
Suitable for Skin Closure in the following Procedures
Veterinary Procedures – General surgery
Heart and Breast surgery
Plastic surgery – Burn surgery
Neurosurgery – Field Rescue
Gynaecology & Obstetric
Plus many other Emergency treatments
Simple and reasonable design
Easy to operate, no special training needed.
High sew and stapling speed help to shorten the time of the procedure and reduces the postoperative bleeding and infection.
Smaller tissue reaction, much thinner scar, the wound therefore cures faster.
35W High Quality 316L Stainless Steel Staples.
A good aid for suturing every kind of clinical wound.
Aids speed of closure, avoids potential cross infection of contagious diseases.
The Remover allows a quick, easy and painless method of removing staples after the procedure which allows the incision to heal quicker.
NB. Expiry Date 09-2011  
Packaging Slightly Damaged 
We are the LARGEST supplier of pre-owned Hospital Beds in the UK (Est. 1987) and stock is usually plentiful.
SHOWROOM NOW OPEN in Rainham Kent – For more detail contact Mandy@LyndhurstMedical.co.uk 
Notes:

Our product has obtained and passed the 'Warrant of State Drug Administration'
PERIOD OF VALIDITY: 3 YEARS
CERTIFICATION: C E CERTIFICATION